Stichting voor de belangen van de slachtoffers van de Japanse concentratiekampen in Nederlands-IndiŽ en andere door Japan bezette gebieden in Zuid-oost AziŽ.




Foundation in support of the victims of Japanese concentrationcamps in the Dutch East Indies and other by Japan occupied territories in South-East Asia.
Klik hier om naar onze



te gaan!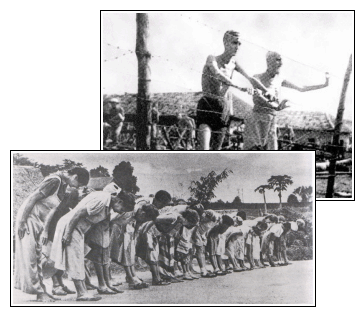 Klik hier / Click Here


Heeft u of uw familie ook in een kamp gezeten?
Of bent u geÔnteresseerd in de geschiedenis van de bezetting van Japan in Nederlands-IndiŽ en de ervaringen van oorlogssslachtoffers?

SVJ streeft naar

rechtsherstel voor de vervolgings-slachtoffers van de Japanse bezetting 1942-1945
bekendmaking van een deel van de Nederlandse geschiedenis tijdens WO II in het voormalige N.O.I.
Klik hier / Click Here